In a world where Google and Apple dominate the entire market, for the most part, it's easy to forget about Microsoft in terms of the mobile space. This isn't a lack of effort from the Redmond-based company, though – they have tried a multitude of times to re-invent their somewhat misunderstood Windows Phone operating system. Each iteration of Windows Phone OS's followed a similar pattern: Gorgeous software design with the easy-to-use user interface, but it misses the mark when it comes to one thing the whole technology space can agree on, and that's apps. Let's see what the Lumia 650 has in store for us in this full review.
From Google effectively forgetting Windows Phone exists by no longer providing a standard Google Services package, to the more mainstream app developers not being in any immediate rush to release any of their creations to the effective third place operating system; simply because the user base isn't there to warrant an app being released for it.
With this landslide downscaling of popular applications not paving a way over to Windows Phone, Microsoft is trying to think of ways to entice the minuscule amount of people interested in the operating system back over their full-time. This isn't an easy feat to accomplish, with the behemoths like Google and Apple making monumental strides in user activations by the billions each quarter and no sign of a slowdown on the horizon.
Microsoft announced Windows Phone 10 back in late 2014 along with its newest desktop operating system, coincidentally named Windows 10. [perfectpullquote align="right" cite="" link="" color="" class="" size=""]One thing Microsoft have a firm grip on is the desktop market, and a sudden shift in strategy from the company that would effectively attempt to unify Windows 10 and Windows 10 mobile[/perfectpullquote] with promises of continuity features much like Apple does with its operating system iOS. Another thing the US-based company later announced at their annual BUILD conference in 2015 is a 'Bridge' developer toolkit called Islandwood, later named Windows Bridge, to assist iOS developers porting their Objective-C software to build them into Universal Windows Apps. Speaking of Universal Windows Apps, this is an additional way Microsoft tried to bring back the amount of people leaving the ecosystem at a fast rate, by having both Windows 10 and Windows 10 Mobile be universal in its app ecosystem, so any app released for Windows 10, would be readily available for its mobile variant.
Along with the launch of Windows Phone 10, Microsoft announced its first-party launch devices, which were the Lumia 950, 950XL, and Lumia 550. These were the first devices under the 'Microsoft' branding since removing the Nokia branding after its acquisition.
Clove Technology kindly provided a Lumia 650, which was a later device launched by Microsoft to have Windows Phone 10 out of the box. Would this ultra-premium mid-range device entice a once lover of its Mobile operating system? Or is it another failed attempt to cause another black hole in a Galaxy too big to be consumed? There's only one way to find out.
Build Quality
When you think of build quality, Microsoft isn't a company quintessential when it comes to the phrase. Since acquiring Nokia back in 2012, everyone came to the joint conclusion that the Windows Phone brand may be heavily related to stunning build quality. This didn't last long, of course, as Microsoft were very quick to offload the staff that made some of the best looking Windows Phone devices at the time. The Lumia 650 isn't a device made by Nokia, and it shows down to its core. The overall build quality is uninspiring, lacks motive and leaves a bitter taste in your mouth in the process.
The 650 is primarily made of aluminium, with a thin slicing of polycarbonate which stretches around the back of the device. [perfectpullquote align="full" cite="" link="" color="" class="" size=""]In the hand, the Lumia feels incredibly sturdy, which is more of a praise to its matte finished aluminium sides for extra rigidity.[/perfectpullquote]
Tour of the Device: Front
Around the front of the device, you won't notice much going on, which is par for the course when it comes to any smartphone nowadays. Up at the top, you see the 5MP front-facing camera with a surprisingly large footprint to it. Just to the side of the 5MP shooter you will find the almost unnoticeable Microsoft branding; with the earpiece sitting pretty just above it.
Taking centre stage is the 5-inch OLED display which has Corning Gorilla Glass 3 for protection.
Tour of the Device: Back
The back holds nothing resembling in its looks, with the top-end touting the 8MP rear-shooter with the LED flash module resting next to it. Taking up the whole back of the device is the smoothly finished polycarbonate backplate which is removable. Engraved into the backside is the Microsoft logo with a shiny finish to it.
The 650 also has a removable backplate, which reveals its 2000mAh battery which is removable. To the left of the battery is both the micro-SD and Nano-SIM slot.
It's worth noting that the 650 has a relatively small camera bump which protrudes less than a mm from the device.
Tour of the Device: Sides
On the right side, you will notice a somewhat standard volume rocker/power button combination with the volume rocker resting 4-5mm above the power button. Both buttons are very clicky and protrude from the device by 1mm. Both buttons have the same type of aluminium finish to match the overall feel when it comes to holding the device in-hand, making it cumbersome when it comes to deciphering which button does what if you're one to not look at your device when increasing the volume.
Moving along to the bottom of the device and you will notice the USB-2 port which is surrounded by a thin layer of plastic which acts as the antenna.
Transitioning up to the top and you guessed it: This is where the 3.5mm headphone jack is situated on the same layer of plastic surrounding it for the antenna.
Build Quality: Overall Impressions
When it comes to the low-mid range market of smartphones, you rarely come across a device that is designed with a flagship in mind. The 650, and most importantly Microsoft, took a relatively un-tapped market of ultra-premium low-end devices and flipped it upside down. The 650 feels incredible to hold, and you would be of the thought that this was a device made with flagship-quality in mind. [perfectpullquote align="right" cite="" link="" color="" class="" size=""]The aluminium finish along the sides accompanied with a slight chamfer to the edges makes this a very 'business' feeling phone, making this the best low-end smartphone I have ever had the pleasure of using.[/perfectpullquote]
My only qualm with the build quality would have to be the positioning of the antenna lines – having them be as prominent as they are, surrounding both the headphone jack and USB port takes away from the pure beauty of the device. It leaves little to be desired when it comes to overall looks and finish, which is a huge shame as this device, for the most part, hits the nail on the head in terms of fit and finish.
Display
The screen in the Lumia 650 is very much the saving grace for this device. It's punchy, not too vibrant and performs admirably in any condition you throw at it.
Let's start by saying that this is a 5-inch OLED display with a 297-pixel density; making it a 720p panel (720 x 1280).
If you are one to be outside in sunny conditions a lot, this display may not be the most suited towards you – as the screen can only manage to get up to 300 nits. Putting it into perspective, the iPhone 6s and the more recent iPhone SE can climb up to a whopping 600 nits. After rigorous testing with this, I can vouch for the figures that this display isn't at all visible in broad daylight.
In normal conditions i.e. Indoors and the like, I was more than happy with the output this mid-range Windows Phone star was producing. Thanks to Microsoft's own ClearBlack display technology that was heavily inspired by Nokia, blacks were as pure as you could get them which is to be expected from an OLED panel. Whites were a little on the warm side, with a tint of a brown/orange that is hardly noticeable at the best of times, butit's definitely worth noting that you aren't going to get IPS-level whites from this panel. But for a £100 smartphone, it's hard to grumble at that. [perfectpullquote align="full" cite="" link="" color="" class="" size=""]It's definitely worth noting that you aren't going to get IPS-level whites from this panel. But for a £100 smartphone, it's hard to grumble at that.[/perfectpullquote]
The mid to low range market of smartphones get a bad rap for having lacklustre displays, with it being the biggest compromise when it comes to purchasing a device of this magnitude. Microsoft seems to be staking a different claim this time round, with the 650's displays being one of the best for its price bracket. The temperature of the display is taking more of a neutral prominence, with it catering to both sides of the warm/cool table.
It's hard to really come up with any major down points when it comes to the 650's display, and Microsoft did an amazing job at finding the right balance of vibrancy that some mid-range OLED displays had issues with in the past.
Performance
When it comes to performance in the mid-range market of smartphones, it seems to have taken a turn for the better. Qualcomm has been hitting it out of the park with their low-end chips like the Snapdragon 650 and 652, which benchmarks equal if not better than the high-end 810 chip. A market that was once riddled with an overbearing slowness that could only be described as a snail's pace has flourished into an adrenaline-induced force to be reckoned with for the best part of 2015. Devices such as the Moto G, Lenovo K1, Honor 5X and a plethora of other devices are the poster children for devices that don't break the bank and have the strengths that high-end devices do.
There aren't many mid-range Windows Phone devices that are known for their beefed up performance and are becoming fewer as the months go by. Microsoft wanted to change this with the 650 and well…it didn't, unfortunately. The first major problem was the fact that it has a very dated Snapdragon 212 chip in it — and while it may have four cores, the performance of each core won't be winning any endurance races anytime soon.
Usually, when you notice performance hiccups, the operating system and how much load it's adding to the processor is usually to blame. In this case, the 650 has one of the most minimal operating systems around right now in Windows Phone, but the processor tends to not care, with performance that only its mother would be proud of for 'making an effort'.
[perfectpullquote align="right" cite="" link="" color="" class="" size=""]In normal use, the Lumia 650 appears to be disinterested in doing the most basic of tasks.[/perfectpullquote]
Things like opening the stock Email client, Calculator or even the Edge browser would pose a 1-2 second delay before considering putting the processing power into it and opening the application. Even when the application is opened, the CPU struggles to keep up with something as simple as scrolling, which isn't something that should be an issue for a minimal operating system like Windows Phone.
For gaming performance, you will see the obvious symptoms of the CPU not working in conjunction with its GPU. As standard with Qualcomm CPUs, the 212 comes accompanied with the Adreno 304 GPU. Playing graphic intensive games like Asphalt or Tiny Solider are a struggle — frame drops every couple of seconds and when you do get a clear chance to see what's going on in-game, manoeuvring around corners for racing games like Asphalt makes it a mountainous task. [perfectpullquote align="full" cite="" link="" color="" class="" size=""]This device was purely made for social media consumption and not much else in terms of pushing the CPU to its obvious easy-to-meet limits.[/perfectpullquote]
The only game I was able to play without copious amounts of frame drops was Hill Climb Racing. I understand that this is on the low-to-mid range spectrum of the smartphone market, but the Snapdragon 650, while having faults of its own, would have been a better choice for the overall experience.
Camera
The real fait accompli for the 650 is its camera. No matter what situation you happen to challenge it with, it will put up a fight to get the best clarity and detail out of the situation. It's real strong suit is the macro shots it manages to take, which you will see spaced out below.
The camera software is very simple-yet-effective. There aren't settings scattered out-of-the-way making an unbearable experience; quite the opposite. Everything is laid out nicely and the built-in effects are something Instagram would be proud of. The manual features are well presented and my limited experience with using it posed no issues and the camera was a joy to use on this device.
As you can see below, standard lighting conditions don't present any immediate problems for the 650. Letting in enough light for the condition and producing a very clear, punchy images that don't fall victim to over sharpening. Saturation is on the strong side, but this can be tweaked in the manual mode if you so wish.
[perfectpullquote align="right" cite="" link="" color="" class="" size=""]One caveat when it comes to any mid-range camera experience is the lack of detail when it comes to low-light shots. The 650 follows the same suit, unfortunately.[/perfectpullquote]
You get quite a bit of artefact with a heavy dose of noise to accompany it. It's not the most unbearable of experiences, though — you can get some decent shots in low-light situations if you get the focal point inch-perfect.
Software
Windows Phone, for all intents and purposes, is an operating system that is in the middle of an existential crisis.
Although in terms of rankings the Microsoft-made OS is firmly in third place, it's leaps and bounds behind its 2 main competitors, in turn being beaten to the unique user activation mark each quarter. After using Windows Phone on the Lumia 650 for almost 2 weeks now, I can see the major pitfalls of this operating system, and the majority of these pitfalls come down to one thing – and that's apps.
Don't get me wrong, Windows Phone OS is probably one of the most consistently beautiful designs to grace the world of technology, and one thing Microsoft got correct is one of iOS' main good points, too: consistency. Each and every app has to follow Microsoft's 'Metro' design and developers have a free reign to customise everything in between to give their app its own unique persona.
My favourite part from my experiences with Windows Phone 10 has to be the home screen. It takes an Apple-like concept of everything in one place but gives it a sense of purpose and meaning. You can customise each 'tile' to be slightly bigger than the rest, or minimise to a standard application icon size. The best part is that the bigger you make the tile, the more information is shown in the tile, which is specific to the application.
For example, the Twitter tile is at its maximum size and it shows you your recent notifications you received; be it mentions or direct messages. On the odd occasion, you will see popular trends in your local area appear if you enabled location services.
In terms of customization of the home screen, it's fairly basic. You can change your wallpaper and have it either cover the whole of your screen and have a solid tile colour or have the wallpaper be the tile background and have a solid background.
Bloatware appeared to be a minor issue for my unlocked version of the 650, with applications such as eBay, The Times Online and The Guardian being the only pre-installed 'bloatware' that made an appearance. Of course, these applications can be easily uninstalled.
As soon as the honeymoon phase of my Windows Phone experience was over, however – I noticed some niggling issues that increasingly irked me by the day. One example being that the Windows Store refused to update all my applications in one go. My first experience of this was when I first set up the device — I went into the Windows Store and noticed I had 31 app updates. I selected 'Update All', let it sit there for 10-15 minutes, only to come back and none of the updates had been applied. The workaround for this was to update each individual application which proved to be as monotonous as it sounds.
You get the basic stock applications you will find in any smart device nowadays: Clock, Calculator, Calendar, Email (Outlook), Weather, Messaging, Phone etc.
The app situation on Windows Phone is just as bad as it appears from the outside looking in. There's no sign of any Google Services, and the ones that are there are Microsoft-created with no input from Google themselves. The 'default' YouTube application is just a link to the web page, and you have to pay for a third-party application to get a decent viewing experience. The good thing about Windows Phone and paid apps is that you can trial them for a brief period before making the ultimate decision of purchasing it.
Games are very few and far between, with only a minuscule amount of Android/iOS games making an appearance in the store. There's a plethora of Xbox/Windows Games, which is to be expected. Although gaming on the 650 became more of a chore than a pleasure during the short amount of time I had with the device.
Battery Life
The Lumia 650 houses a removable 2000mAh battery. This accompanied with a 720p display and power efficient processor, you'd expect somewhat decent battery life, right? Unfortunately, this wasn't the case from my time with the device.
The way Windows Phone handles applications is in a similar stepping to what Apple do with iOS. As soon as you come out of the application, it goes into a 'frozen' state until you come back into it. As opposed to Android where it keeps it in memory as long as the RAM is available. This would in turn help boost battery life as not many resources are being used in the background to hog all the power.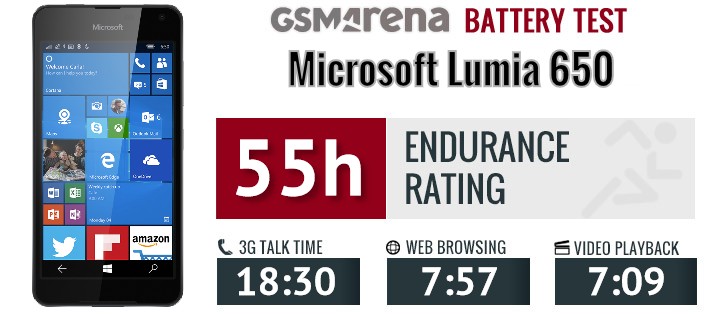 My usual weekday starts with me waking up at around 7am. I take the phone off the charger, browse Reddit (specifically Readdit on WP) for around 20 minutes. Bear in mind that I use the application's dark mode to suit the strengths of the OLED display — after 20 minutes of browsing, the battery is already at 90%. On my commute to work, I'm mainly on a 4G connection. I listen to a 30-minute podcast and 10 minutes of music via Spotify before my bus stops. After getting off the bus, the phone would usually be at 70-75%.
While working, I use the device on a rare occasion; mainly when I'm on my break or lunch. I get home from work at 5:00PM, and while idling for the 7-8 hours I was at work, the device is down to 50%. When home, I play a few games of Hill Climb Racing, listen to music and continue listening to my favourite podcasts. This would end up draining the device down to 20%. When I go to bed at 11PM, the device is almost drained and ready for a charge.
The Lumia 650 will get you through a solid days use, and while my use cases aren't as rigorous as some, I found myself needing to charge the phone halfway through the day on those occasions I needed to use the phone for more demanding tasks.
Verdict
The mid-range market of smartphones have shifted at an exponential speed since the year of 2014, and companies such as Motorola, Xiaomi, Lenovo, Huawei and Honor are raising the bar at a pace that is unmeasurable.
Microsoft tried getting into the mid-range market, appealing to customers that don't have the money to spend on flagship-caliber devices. The poor choice of processor and an unrefined operating system makes the Lumia 650 a no-buy when there's a plethora of Android devices out there in the same price range with a lot more to offer.
[perfectpullquote align="full" cite="" link="" color="" class="" size=""]The Lumia 650 is built to perfection, but switching the device on tells a different story entirely. The consensus here is don't judge a book by its cover. Just because it looks the part, doesn't mean it will play the part.[/perfectpullquote]